100 Years of Fashion: Wedding Dresses. In the past century, wedding gowns have advanced significantly, moving from the conventional, conservative designs of the early 1900s to the more contemporary, fashion-forward designs of today. Wedding dress trends have changed with each decade, from the flapper-inspired gowns of the 1920s to the contemporary silhouettes of the 2010s. In this blog article, we'll examine some of the most recognizable wedding gown designs from the previous century and examine how they've impacted modern bridal fashion.
1920s: Women experienced a newfound sense of independence during the flapper era, which was mirrored in the looser, shorter bridal gowns of the era. Short sleeves and low waists were common features of dresses, which were frequently constructed from airy, sheer fabrics like chiffon.
1930s: Due to the Great Depression, bridal gowns became more understated and practical. Long sleeves and a longer hemline were common features of dresses made of satin or silk. In order to add a touch of elegance, many brides also opted to wear veils or headpieces.
1940s: Due to the paucity of materials during World War II, many brides opted to wed in straightforward, functional gowns, which had a significant impact on wedding dress trends. Dresses frequently had little ornamentation and were made of cotton or other inexpensive fabrics.
1950s: Traditional, feminine fashions made a comeback at this time after World War II. Most dresses had a long skirt and a short train and were composed of satin or taffeta. During this decade, the renowned "ball gown" style with a fitted bodice and long skirt rose in popularity.
1970s: Wedding gowns adopted a more glitzy, lavish style throughout the disco period. Dresses frequently had embellishments like ruffles, sequins, and bows and were constructed of shining materials like satin or silk. During this decade, the distinctive "sheath" style, with its slender, straight form, also gained popularity.
1980s: The power dressing craze of that decade influenced wedding gowns to take a more structured, formal attitude. Dresses frequently had a large, puffy skirt, lots of decorations, and were composed of heavy materials like taffeta or duchesse satin.
1990s: The minimalist craze of that decade inspired a more subtle, traditional style for bridal gowns. Dresses frequently had a clean, unadorned form and were constructed of simple, attractive materials like silk or organza.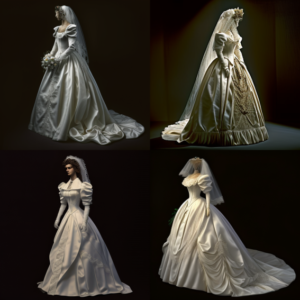 Early 2000s: Glamourous, costly fashions made a comeback. Dresses were frequently crafted from thick, opulent materials like satin or taffeta and had numerous embellishments, including beads, crystals, and needlework.
2010s: Wedding dresses adopted a more contemporary, minimalist aesthetic in the decade. Dresses frequently had a clean, sleek design with little decorations and were composed of airy, light materials like chiffon or georgette.
The fashions of wedding gowns have changed over the past 100 years to correspond with the shifting societal and cultural fads of each decade. From the minimalist styles of the 2010s to the 1920s flapper-inspired gowns, wedding